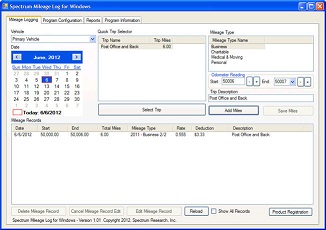 The Spectrum Mileage Log for Windows is a mileage log software application designed to run on Microsoft Windows, XP, Vista, 7 or newer.
Track multiple vehicles.
Memorize Quick Trips for fast data entry.
Create mileage reports with mileage details or totals.
Performs mileage reimbursement calculations.
Mileage reimbursement rates are date driven to support IRS rate changes.
Read the Mileage Log User Manual.
Beta Testers Wanted
We are looking for a limited number of beta testers for this software. To be considered as a beta tester, email us at betatester@spectrum-research.com and include your full name, company name, address, city, state, zip, phone number, the version of Microsoft Windows you use, and any other experience you might have beta testing software.



Visit our main website at: http://www.spectrum-research.com
Return Policy.

Spectrum Research, Inc.
1601 High Forrest Court
Nashville, TN 37221

Visit the Mileage-Log.com home page
See our Mileage Log Book